Biblioteket LIVE
Biblioteket Live is Södermalm's newest entertainment venue. The classic premises in Medborgarhuset were designed by Martin Westerberg in 1939 and have since mostly served as a library. After thorough renovation, this historic building has been transformed into Biblioteket Live: 1,500 m2 of restaurant, bar, and event space. The interior design has been signed off by TOREKULL Interior Architecture and Design, and a lot of energy has been put into creating an environment that celebrates diversity and everything that Stockholm's Södermalm stands for. 
She continues:
"The suspended ceiling islands and the backs of the listed bookshelves have been covered with specially designed acoustic tiles from Akustikmiljö, with artwork by illustrator Martin Reintz. The illustrations portray the diversity of people and life in Södermalm, which is what gives Biblioteket Live its heart and soul." In "Vardagsrummet", a completely separate part of Bib-lioteket Live's restaurant, the backs of the bookshelves are covered with a sound-absorbing material to create a more intimate and cosy home environment feeling. Coloured expanded metal covers the sound absorbers to create life and structure, but also to allow the sound to be properly absorbed. "Acoustic measures are at least as important as good in-terior and lighting design. And working with an acousti-cian from the very outset of a project should always go without saying, because a pleasant sound environment is, in principle, crucial for staff and guests alike." And it's not just the guests who think that Biblioteket Live is something a bit out of the ordinary. The cocktail bar and restaurant won the 2022 5-star design award in the category "Best Leisure Interior Sweden". The prize is awarded by the European Property Awards – founded in 1993, it is the world's largest and most prestigious real estate competition. "It was of great fun, of course, and proof that our inspiration hit the mark. Getting international recogni-tion feels great for all of us who were involved," says Maja-Li. And where do these creative souls find their inspiration? For Maja-Li, it's mostly about moving in different ways. "I'm a Thai boxer and also dance the Dominican tradi-tional bachata. This is like meditation for me and helps unlock my creativity. An hour in the ring always helps me find new ideas and get inspiration," she concludes.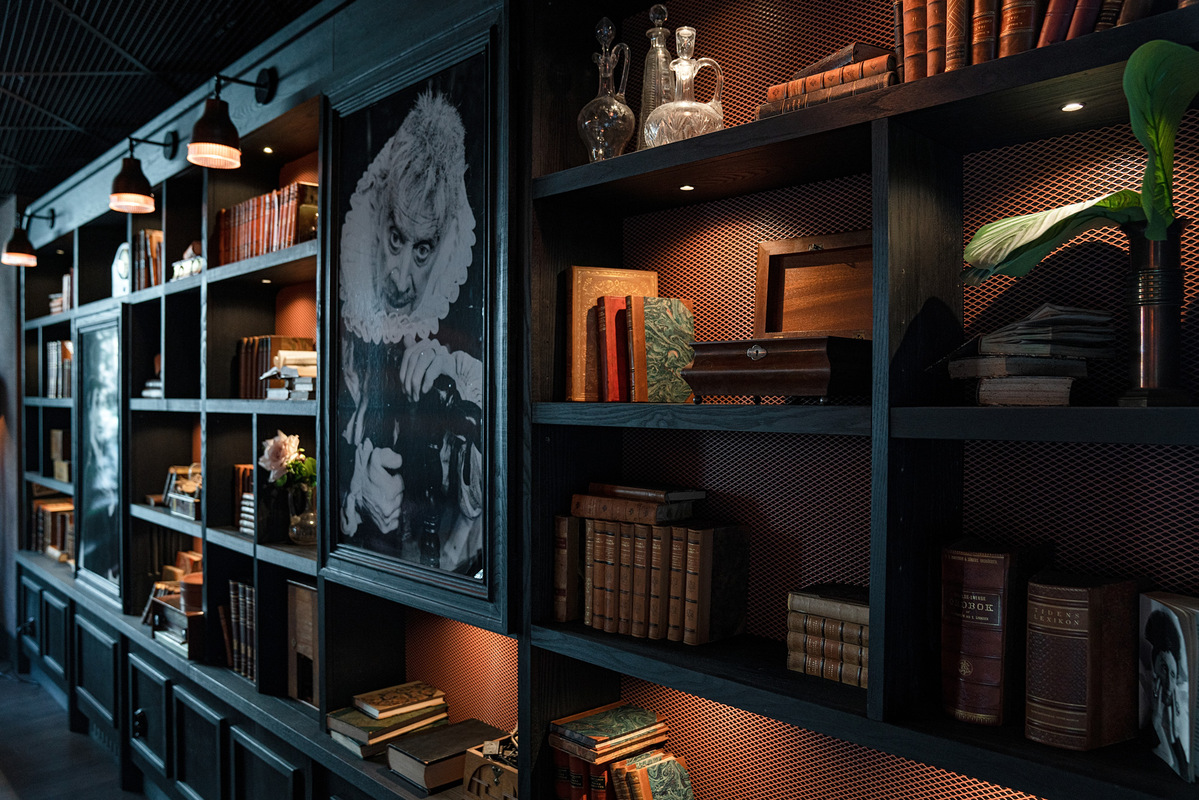 The vision with Biblioteket Live was to create a playful, welcom-ing, and popular venue where everyone feels at home. It's some-where that celebrates diversity and the unique culture that per-meates Södermalm in Stockholm. We've drawn inspiration from the original 1930s architecture, art deco luxury, and greenery. "We've created an atmosphere where the details are inspired by people's lives. Each part of Biblioteket Live has its own identity, which means that every visitor should be able to relate to at least one of the environments. The interior is warm and welcom-ing with round, soft shapes in earthy tones," explains Maja-Li Torekull, interior designer at TOREKULL Interior Architecture and Design. One of the unique environments that Maja-Li talks about is the eye-catching cocktail bar – a real showstopper as you enter the former library hall. The cocktail bar is cheerful and playful with dynamic lighting in the suspended ceiling islands. This gives the opportunity to create different moods for different occasions. The listed library shelves have been retained to allow the feeling of the old library to live on. The library halls are breathtakingly spacious with six-metre-high ceilings. Consequently, Maja-Li has placed great importance on the acoustics and integrated this into the walls, ceiling, bar, and bookshelves. "Behind the cocktail bar is Europe's tallest freestanding spe-cially designed wine cabinet at a whopping 5.9 metres tall. The cabinet was created to accentuate the room and its space, like a huge bookshelf filled with wine instead of books," says Maja-Li.